Here it is….A couple weeks ago, I ventured down to New Orleans to enjoy the beautiful sights and sounds of the 15th Anniversary of the Essence Music Festival in New Orleans sponsored by FORD MOTOR COMPANY. When I got the call to come down and cover the event (Sponsored by FORD MOTOR COMPANY), I was kind of shocked and excited all in the same breath. Damn, Essence and FORD requesting the presence of LowKey. Awesome
We landed Wednesday afternoon without a task in sight so a majority of our time was spent in the hotel during the day and on Bourbon St at night. Now, if you spent anytime down in the Big Easy, you know EXACTLY what Bourbon St is about so I don't need to digress.
Thursday things kicked off with the Ford Sponsored Freedom Sisters Luncheon Hosted by ET's Kevin Frazier. The event honored women in the New Orleans community who exemplified the dedication to social causes and humanitarian efforts celebrated by the Ford-sponsored Freedom's Sisters traveling exhibition. Freedom's Sisters features African American women who fought for justice and freedom during the civil rights movement. Featured guests include Dr. Dorothy Height.
Friday we attended the Empowerment Seminar: Living an Authentic Life event which was sponsored by Ford Motor Company. This seminar highlighted different ways to improve and live a more genuine life. Throughout the day, we visited different sections within the convention center. Walmart, Cocoa Cola, McDonalds, Sirius Satellite and a bevy of other establishments were set up throughout testing out new products as well.
After a couple hours of resting, we ventured over to the Superdome for night one of the Essence Music Festival. Ne-Yo, Beyonce, and John Legend took to the stage and gave MEMORABLE performances. Ne-Yo crooned to the ladies, Legend left his soul on the piano and Beyonce inspired every single lady to push their no good significant others to the left.
Saturday morning, we slide over to the Ford/Lincoln Ride & Drive outside the convention center. After receiving a plethora of info on FORD and Lincoln's new vehicles, we received the opportunity to test-drive the 2010 Lincoln MKS, 2010 Lincoln MKT Crossover, 2009 Lincoln MKZ, All-New 2010 Taurus (Vehicle is not in dealerships), 2011 Ford Fiesta (Vehicle is not available in the United States), 2010 Ford Fusion Sport, 2010 Ford Fusion Hybrid, the vehicle that gets you 700 miles on a single tank of gas.
After roaming the streets for a couple hours, we landed back at the Superdome for night two of the Essence Music Festival. Robin Thicke, Patti Labelle and Maxwell (who arrived after 12am) performed leaving the audience with nothing but good things to say at the shows conclusion.
Directly after Ford Motor Company's, Lincoln After Dark event took place at the Contemporary Arts Center minutes away from the Superdome. Hosted by Steve Harvey, this exclusive "After Dark" event housed some of Essence Music Festival's hottest VIP's which included Al Reynolds, Eva Pigford, Ledisi, The Blind Boys of Alabama and Sherri Shepard of The View.
The night reached its peak when Brian McKnight surprised party goers with a special and intimate performance. The turntables were manned by Biz Markie and actor Idris Elba (yeah I didn't know he was a DJ either).
Big big shouts to Crystal Worthem, Multicultural Marketing Manager and Sarah Cunningham for taking care of all our Essence Music Festival needs. And, big shouts to the city of New Orleans for showing me such a GREAT EFFIN time. Until next year, I'M OUT!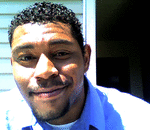 Posted By: Devon Marshall
Friday, August 7th 2009 at 4:25PM
You can also
click here to view all posts by this author...