Entertainment Correspondent Tanisha LaVerne Grant interviews actor and comedian DeRay Davis who stars in the upcoming release "GROW HOUSE" which opens in theaters nationwide on 4/20/17.
ABOUT GROW HOUSE                  
There's a boom in medical marijuana dispensaries in the state of California and the U.S. These facilities have reached record numbers, cropping up like Starbucks or McDonald's. States across the nation are legalizing medical and recreational marijuana. Our two unlikely heroes, Pat (DeRay Davis - "EMPIRE," "21 Jump Street," "GI Joe") and Darius (Lil' Duval - "Scary Movie 5," "Meet the Blacks"), figure they can help the medical marijuana movement, but mainly help themselves by trying to grow their own cannabis and selling their crop to the dispensaries. There's only one problem… knowing how to smoke marijuana doesn't mean you know how to grow it!
After taking a trip to Dr. Doobie (Malcolm McDowell - "Entourage", "The Mentalist," "Home Alone") to become legally certified growers, they gain access to a Bel-Air mansion to use as a "grow house." Although they convince Snoop Dogg (played as himself) to fund their operation, our heroes soon discover what can grow wrong, will go wrong in this comedy of errors.
VIEW THE TRAILER HERE:
www.youtube.com/watch?v=dJGaZjAebuk
FOLLOW THE CONVERSATION ONLINE
Facebook:  /GrowHouseMovie
Twitter: @GrowHouseMovie
Instagram: @GrowHouseMovie
Official Website:
www.GrowHouseMovie.com
#GrowHouseMovie
Videographer:
Beka Namicheishvili
www.bekavirtue.com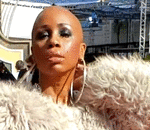 Posted By: Tanisha LaVerne Grant
Friday, April 14th 2017 at 2:51PM
You can also
click here to view all posts by this author...