Name : Diamond Coles
HBCU : Howard University
Graduation Year : 2017
Major : Communications with a focus in Public Relations
Minor : Business Marketing
Email : diamondcoless@yahoo.com
1. Where are you from? Who introduced you to HBCUs?*
I was born in Fontana, California but I was raised in East Atlanta, Georgia. I was introduced to Howard specifically by my godmother who always loved the Mecca and encouraged me to apply.
2. Why did you choose an HBCU over a pwi?*
Originally I chose an HBCU over a PWI because they offered me more money; however, I stayed at an HBCU because they made me feel a love like no other. I was encouraged to do my best and to go above and beyond because of the strength of my foremothers.
Additionally, I was constantly motivated by those that looked just like me and shared similar backgrounds to excel because that's what we were created to do. I never could have imagined the power of being around such beautiful, intelligent and diverse groups of people that sometimes only shared being "black" in with me. I was able to seek answers about my past and truly experience the feeling of family unlike going to an institution where I 'm just considered a number. Honestly, I didn't choose an HBCU it chose me--and I am forever grateful for the experience!
3. What is the story of your "experience" at Your HBCU given its heralded status as a stellar and prestigious institution?*
I was constantly surrounded by greatness and expected to outperform anyone who ever questioned my intelligence. I was taught to embrace my "blackness" and to expand the definition of what it means to be a part of such a an amazing group of people.
4."First time" experiences at your HBCU?*
The first day of freshmen week, I entered Cramton and I was immediately overwhelmed with the immediate connection I had with my fellow classmates. Dr. Carr's voice captivated the attention of all and spoke these words, "This is exactly where you were meant to be." It was at this exact moment I knew that I chose the perfect place to be for the next four years of this important transitional phase of my life.
5. Who are the professors that have impacted your life in and out of the classroom? How did they do that?*
Dr. Medford was the first professor to give me a B at Howard. It was my most prized grade because I truly earned it and instead of celebrating mediocre work she awarded me with exactly what I was owed.
Dr. Woods taught me to continue to question things that were argued to be truth.
There were many others that at the moment their names have slipped my memory but the impacts they made are still present within my daily life.
For example, many of my professors pushed me beyond what I thought was my capacity to think and explore; so, I constantly dig beyond the surface of simple answers to delve into the root of the why.
Additionally, a few of my professors emphasized the importance of deadlines, so I make sure to always complete anything well before the deadline to ensure the best possible quality of work.
6. What life-changing books would you recommend to others to read?
"The New Jim Crow" by Michelle Alexander is an excellent book to read if you are curious about institutional racism and its impact on our community.
https://www.myhbcuinterview.com/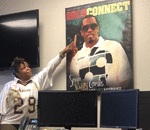 Posted By: Elynor Moss
Monday, October 8th 2018 at 6:17PM
You can also
click here to view all posts by this author...