by Michael Mitchell
HBCU Gameday has partnered with Aspire TVto bring its flagship football program, "The No Huddle," and new series, "HBCU 101," to the network's weekend slate beginning Saturday, September 7.
"The No Huddle" is a thirty-minute show that previews black college football action and sets the tone for every game on Saturday. It began as a ground-breaking online show that brought weekly highlights and interviews from all of the major HBCU schools and conferences. The series will originate from the HBCU Gameday studio in Atlanta with contributions from correspondents across the country. A total of 17 episodes will run beginning September 7 and will include a Celebration Bowl feature as well as a season ending special on December 22.
Airing on Sundays starting September 8, "HBCU 101" will highlight stories from HBCU campuses across the country. The 17-episode series is a joint production with "Yard Talk 101."
"Aspire TV is excited to partner with HBCU Gameday, producers of 'HBCU 101' and 'The No Huddle.' HBCU Sports are always exciting as it not only is about the game, it is also about homecomings, school pride and fellowship. At Aspire TV, we are proud to showcase culture, lifestyle and incredible athleticism from Black Colleges across the country," says Melissa Ingram, General Manager of Aspire TV.
"This is a huge partnership with AspireTV that allows HBCU Gameday to expand our platform to linear television. It's a logical step for us as a company and we really anticipate that the fans will love having a show that adds context to the games that mean the most to them," said HBCU Gameday founder Steven J. Gaither.
"We are going to bring a lot of authentic content and features that will really ring true within the HBCU culture. Our team has been around HBCUs for the majority of our lives and we understand the nuances and differences that make Black College football unique and special," said Wali Pitt, Executive Producer of "The No Huddle."
https://www.radiofacts.com/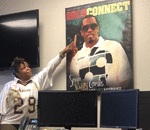 Posted By: Sister Elynor Moss
Sunday, August 11th 2019 at 9:24PM
You can also
click here to view all posts by this author...