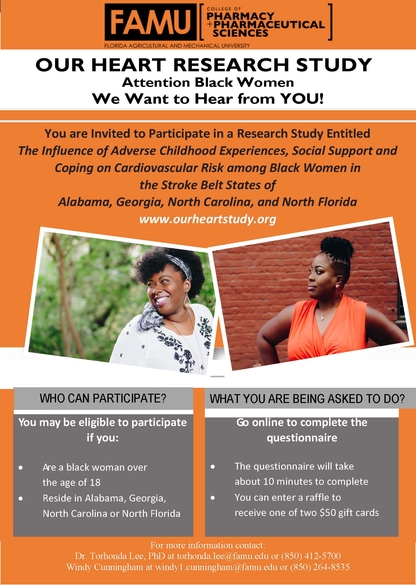 Childhood trauma and Adverse Childhood Experiences (ACEs) are common; however, minorities are more likely to experience long lasting and serious negative health outcomes, primarily because they frequently lack the support, health care and resources to recover. As a result, left untreated, childhood trauma can lead to serious mental health conditions like Post Traumatic Stress Disorder and a multitude of health problems.
Black women are especially vulnerable as they often navigate multiple stressors throughout their lifetime: toxic stress, stress from discrimination and s*xism and daily exposure to community stressors, but often forego medical and mental healthcare. To mitigate this stress many Black women adopt the persona of a "Strong Black Woman" believing that their own strength alone will provide sufficient protection from poor health outcomes. They also seek out and receive social support from family, friends and church. But the question remains: are they able to protect the one asset they need to survive: their hearts? There's a clear relationship between chronic stress and heart disease risk but there's still much more to learn, especially for this vulnerable group.
To explore this relevant topic, I developed the Our Heart Study, an examination of the impact of ACES, support and coping on heart disease risk among Black women in the south. By participating and answering questions on health, stress and culture, I can better understand what factors are more likely to help protect Black women from developing heart disease and what factors are more likely to put them at risk. Women who identify as Black and live in North Carolina, Georgia, Alabama and North Florida are eligible to complete the online questionnaire.
Please help bring awareness of and participation in the Our Heart Study by doing any or all of the following:
· If eligible, review the project information on the study website,
www.ourheartstudy.org
and take the Our Heart Study online questionnaire and let others know that you did
· Encourage Black women to review the study information on the Our Heart Study website and if they consent, complete the online questionnaire
· Forward this post, study website link and information letter to friends, family and colleagues
· Share the study information, flyer, letter and website link on your social media pages
To learn about the study and download the Information Letter visit:
www.ourheartstudy.org
IRB Participant Information Letter/Consent with Online Questionnaire:
http://famu.co1.qualtrics.com/jfe/form/SV_74hrHaDuPLqmR93
Sincerely,
Windy Y. Cunningham, DrPH (c)
Graduate Student, Behavioral Sciences and Health Education
Institute of Public Health
College of Pharmacy and Pharmaceutical Sciences
Florida Agricultural and Mechanical University
(850) 264-8535
windy1.cunningham@famu.edu
www.ourheartstudy.org
Posted By: Windy Cunningham
Wednesday, August 26th 2020 at 9:04AM
You can also
click here to view all posts by this author...