Black College Football Experience coming in November
Visit the official website
Louisiana game publisher Nerjyzed Game Studios is readying the
launch of an Xbox 360 version
of its Black College Football Experience game, reports The Advocate. The release of BCFx will mark the first-ever publication of a console game by an African-American owned studio.
A national ad campaign for Black College Football Experience will kick off today during the Bayou Classic as Southern University and Grambling square off in their 35th gridiron tilt. BCFx debuted last year on the PC. Of today's launch, Nerjyzed CEO Jacqueline Beauchamp commented:
We're going to be doing a complete national rollout, and it's going to start right here in Louisiana first. We actually have six commercial spots on NBC (during the game).
NBC will be highlighting the game during the broadcast (2 p.m. Eastern):
The network will... feature another first, the BCFx Sideline Video Game Zone... NBC will cut back and forth between the actual football game and the action in the Video Game Zone.
"The announcers will say, 'Southern may be winning 24-10 on the football field. Let's take a look at who's winning in the video game,' " Beauchamp said.
The network has agreed to cut to the Video Game Zone twice during the broadcast but Nerjyzed is hoping for more, Beauchamp said.
In addition to its football action, of special note is BCFx's drumline game play, which is compatible with the Rock Band drum kit for the Xbox 360. 35 tunes and 65 drum cadences are included. The game is due on Nov. 23.
VIBE-ON!
Pre-Order your copy
Find out more here!!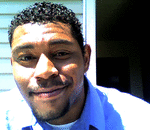 Posted By: Devon Marshall
Sunday, May 24th 2009 at 9:16AM
You can also
click here to view all posts by this author...