wvgazette.com/ap/ApPolitics/201008210293
JACKSONVILLE, Fla. (AP) - Billionaire Jeff Greene is spending millions of his fortune trying to beat Rep. Kendrick Meek in the Democratic Senate primary while Meek on Saturday spent more time with voters.
Meek held a half dozen events Saturday from Jacksonville to the Orlando area and planned to finish the day in Miami to prepare for visits to five churches Sunday morning. Greene held two events Saturday and planned another three Sunday.
"It's not about money, it's about who's gonna stand with you and fight for you," Meek told an enthusiastic crowd at Rep. Corrine Brown's campaign headquarters. "I need you to do the things that we must do to get this vote out."
Meek estimates Greene has spent $26 million on the race. Greene's campaign would not discuss how much it's spent, but Greene has far outnumbered Meek in television ads and has blanketed Florida with mail pieces and robocalls. Meek has tried to counter that by focusing on grass roots, taking a 10-day bus tour, attending rallies with former President Bill Clinton and President Barack Obama, and keeping a busy campaign schedule.
On Saturday, his focus was trying to get people to the polls, attending church events and holding a rally before talking to a group of 60 at the University of Florida.
Meek started the day at a Krystal restaurant, where Brian Pinckney, 37, promised to cast a vote for him on Tuesday. He said he likes that Meek is talking more about issues.
"I really don't think a lot about Greene," Pinckney said. "When you hear so much negative campaigning, it turns you off."
The race has been bitter. Greene says Meek is corrupt because he sought federal money for a developer who had his mother, former Rep. Carrie Meek, on his payroll. Meek says Greene, who achieved billionaire status by making investments that paid off when the housing market collapsed, is a "bad man" who enriched himself on the misery of others.
The anger heated up again Saturday when Meek found out about a mail piece Greene sent that questions whether Meek will stand with Israel. The mailer has a full color picture of rioters throwing rocks in a street as smoke rises behind them with the question, "Has there ever been a more important time to stand with Israel?"
On the back, it has a grainy black and white picture of Meek and asks, "Who can you trust to protect Israel? Kendrick Meek?" The back also states: "Jeff Greene ... A champion for Israel" with a color photo of Greene, who is Jewish.
Meek called the mailer disgusting.
"I have like a 100 percent pro-Israel record in Congress. It's just really offensive that someone would stoop so low," Meek said after visiting the St. Paul African Methodist Episcopal Church. "I'm to the point where I feel that Mr. Greene has lost all credibility in all his arguments."
Greene, campaigning in Kissimmee, defended himself.
"He is not as strong on Israel," Greene said, according to a St. Petersburg Times story. "We had a Palm Beach Post debate and I came out very strongly and said we have to stand by Israel with undying loyalty ... Kendrick Meek said, 'I'd like peace in the Middle East.' To me, that's not a response that friends of Israel want to hear."
Tuesday's winner will face Republican Marco Rubio and Gov. Charlie Crist, who is running as an independent, in the November election.
Greene has said he will spend as much as it takes to win, but he hasn't put nearly as much time into public campaigning. On Sunday, his schedule begins at 10 a.m. and ends shortly after noon, compared with Meek, who plans to start his day at 7 a.m. in Miami and end it more than 12 hours later in Tampa.
At Meek's University of Florida event, one man interrupted his speech by shouting, "I like you because you're not trying to buy the election ... The other guy is all about the money and his party yacht!"
After the event, student Jay Shooster said he didn't even know what Meek looked like before seeing him speak, but now plans to vote for him.
"He left me with a good feeling inside. He left me with a feeling that made me trust him," said Shooster, 20, a junior philosophy major. "His compassion on community left me with a warm, positive feeling."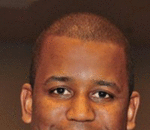 Posted By: Kendrick Meek
Sunday, August 22nd 2010 at 12:57PM
You can also
click here to view all posts by this author...