Dear Friend,
In 2006 and 2008, we saw how a powerful ground game carried out across 50 states could carry the day and win Democratic majorities in the House and Senate and put a Democrat in the White House. I know what it takes to win elections -- and Kendrick Meek has it.
He's put together a ground plan in Florida that's all about knocking on doors, making calls, putting up signs -- all the things that must be done by a grassroots candidate who's determined to win.
But Kendrick needs your help in order to execute his impressive plan. The 48 hours before Tuesday's primary are crucial. Kendrick's campaign manager is finalizing the budget and needs to know how much he has to spend. Your contribution today will determine if he has enough funds to deploy the staffers, order the vans and print the fliers we need to win.
Click here to rush your donation of $5 or more to Kendrick's campaign before the budget for the final push is set. We're down to just 2 days until the primary--and it's a make or break moment.
http://bit.ly/bJROpx
In 2008, the grassroots came together to win it all. We turned Florida blue back then and I know we can do it again -- as long as we have Kendrick Meek. Kendrick's the only real Democrat in this race, the only one who has consistently fought for the things that are important to Floridians.
On Thursday in Miami, President Obama called Kendrick "a champion of middle-class families and somebody who has not been afraid to stand up to the status quo and special interests." Florida needs someone like Kendrick in the Senate, someone who truly understands the struggles of ordinary Americans.
There's no doubt in my mind that we can win this race, but we've got to give everything we can now.We need a decisive win so Kendrick is teed up to run against two well-funded opponents. You know as well as I do that Kendrick must be Florida's next U.S. senator. But it can only happen with your help, and it can only happen if you contribute today.
Click here to make a contribution to Kendrick's campaign before we begin the final 48-hour push before Primary Day. There's never been a more crucial time to give.
http://bit.ly/bJROpx
Late Tuesday night, when all the results are in and Kendrick Meek is named the Democratic nominee, you'll know that you helped make it happen -- you'll know you made a difference. Please give today.
Sincerely,
Howard Dean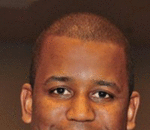 Posted By: Kendrick Meek
Sunday, August 22nd 2010 at 1:28PM
You can also
click here to view all posts by this author...