MIAMI GARDENS, FLA. - Today, Floridians overwhelmingly chose Kendrick Meek as their Democratic nominee for U.S. Senate. Kendrick won the primary as Floridians embraced Kendrick as a fighter for the middle class even though his campaign was outspent six-to-one. Kendrick now faces two lifelong conservative Republicans in the race for U.S. Senate.


"Tonight, Floridians sent a clear message - they want a Real Democrat representing them in the U.S. Senate," said Kendrick Meek. "I am the only candidate who supports a woman's right to choose and equal pay for equal work, has fought against privatizing Social Security, and will repeal the Bush tax cuts for the wealthiest 1% of Americans and cut taxes for the middle class.
"Floridians need leaders who are willing to stand up for middle-class families -- tireless fighters who know what it means to tackle big issues. They deserve leaders who will fight tooth-and-nail to preserve Social Security and will stand with President Obama to rebuild Florida's middle class. Most of all, Floridians want leaders who will fight for them all the time, not just when it helps their own political career or advances an extreme philosophy.
"The naysayers said we couldn't beat a billionaire, and tonight with your help, we proved them wrong. We have the momentum in this race, and over the next 70 days, we'll make sure that every Floridian knows that there is just one candidate who will fight for everyday Florida families. In 10 weeks, Floridians will prove the naysayers wrong once more and send a Real Democrat to Washington, D.C."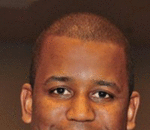 Posted By: Kendrick Meek
Wednesday, August 25th 2010 at 10:33AM
You can also
click here to view all posts by this author...