Dear Friend,
What an incredible night!
Thanks to your unwavering support, we won the Democratic nomination. If there's one thing we've got plenty of right now, it's momentum. That's why we have to keep things moving and not let up for a minute. You've stuck with us throughout the primary process, now we need you to step up once again.
While we've been in a difficult primary battle, Charlie Crist and Marco Rubio have been building up their war chests. Well, I play the David role well, and it's a role I'm going to relish playing in the general election. They say it can't be done. You say it can. But now we've got to catch up fast.That's why we need you to help us reach our goal of raising $50,000 before August 31 so that we have the resources we need to compete.
Click here to rush your donation of $5 or more to my campaign today and help us meet our goal of raising $50,000 before the end of the month so we can beat Crist and Rubio in November.
http://bit.ly/cXUZXx
This election is about the people of Florida. That seems obvious to you and me, but when you look at my opponents, you have to wonder. With Crist, it's all about special interests. With Rubio, it's all about the Tea Party.
I am the only candidate in this race who's been a consistent champion of the middle class and a consistent foe of the status quo. In Washington, I'll keep fighting for what's important to everyday Floridians -- whether it's protecting our coastline, bringing more jobs to the state or ensuring quality health care for all. But first I need your help to get there.
Click here to give $5 or more to my campaign and help us reach our goal of raising $50,000 before our August 31 deadline. We need to march full speed ahead into the general election.
http://bit.ly/cXUZXx
Our win last night proves that when we stand together, we can overcome even the greatest odds. With just weeks to go we were down 10 percent in the polls and being outspent by more than 6 to 1, but with your help we had an overwhelming victory. Our win last night proves that grassroots supporters like you really can make a difference.
Now we need to keep the momentum going.
This time, the stakes are even higher -- Florida's Senate seat is up for grabs. Let's make sure it falls into the right hands.
Thank you,
Kendrick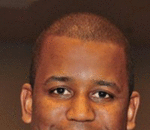 Posted By: Kendrick Meek
Wednesday, August 25th 2010 at 10:39AM
You can also
click here to view all posts by this author...