MIAMI GARDENS, FLA -- People across Florida and around the country are talking about Kendrick Meek's resounding 26-point victory in the Democratic primary for Florida's U.S. Senate seat. Here is a snapshot of what they're saying:
Washington Post, The Fix
"Winners and Losers: The August 24 Primary Edition - Kendrick Meek"
Kendrick Meek: Meek's wide victory over billionaire Jeff Greene in last night's Senate Democratic primary in Florida should convince (at least some) of the doubters who don't think he has a chance to be competitive against former state House Speaker Marco Rubio (R) and Gov. Charlie Crist (I) this fall. And, given the wildly unpredictable nature of the Florida political landscape, anyone who tells you what is going to happen next in the Senate race (or any race) in the state is just not telling the truth.
Newsweek
"In Florida, Kendrick Meek's Win is Charlie Crist's Loss"
Kendrick Meek's 26-point trouncing of billionaire Jeff Greene in the Florida Democratic Senate primary last night gives his campaign a much-needed boost. For a while there, his path to the nomination appeared deeply imperiled. Though he had the backing of the Democratic establishment, he faced an opponent who outspent him five-to-one and unleashed a barrage of attack ads depicting him as a corrupt career politician. Until the final weeks of the primary contest, Greene was polling neck-and-neck with Meek, a congressman from Miami.
With this convincing victory, though, Meek just got a fresh jolt. You can already see a more positive narrative emerging in the postprimary coverage: how he fended off a robust challenger, how he's made history as the first black Senate nominee in the state.
Huffington Post
"August 24 Primary Elections: The 8 Biggest Winners And Losers"
Despite being outspent by billionaire rival Jeff Greene by a ratio of 5-to-1, U.S. Rep. Kendrick Meek emerged triumphant in Florida's Democratic Senate primary on Tuesday night.
He instantly appears to be in a better position to take on rivals Marco Rubio and Charlie Crist, who he will be hoping will split the Republican vote.
"The naysayers said we couldn't beat a billionaire, and tonight with your help, we proved them wrong," said Meek following his monumental win. "We have the momentum in this race, and over the next 70 days, we'll make sure that every Floridian knows that there is just one candidate who will fight for everyday Florida families. In 10 weeks, Floridians will prove the naysayers wrong once more and send a Real Democrat to Washington, D.C."
Florida Times Union
"Behind-the-scenes winners and losers in Tuesday's primaries"
Kendrick Meek - not only did Meek beat back a well-funded challenge by eccentric billionaire Jeff Greene, but he ran his heart out, becoming the first candidate to qualify for a statewide office by petition. He gave the most impassioned speech of the night, a sharp contrast with Marco Rubio's lackluster delivery. He's got a tough road to November, but Tuesday night was his night.
Sun-Sentinel
"Long-awaited, three-way Senate race begins"
In one of the highest-profile state races, U.S. Rep. Kendrick Meek soundly beat businessman Jeff Greene for the Democratic U.S. Senate nomination. Greene ran a mega-money campaign based mostly on TV blitzes ripping Meek for being too same-old, same-old. It failed miserably, and thankfully so. For all his spending, Greene's views didn't come across as all that new or enlightened.
Pollster.com
"Kendrick Meek Will Likely Gain In Florida Senate Race, But How Much?"
There are also hopeful signs for Meek: Quinnipiac finds that nearly half of the Crist Democrats (45%) say they haven't heard enough about Meek to rate him, and only 20% report an unfavorable rating. Quinnipiac finds that half of the Crist Democrats are self-described liberals (46%), and Ipsos finds 36% "strongly" identify with the Democratic party. Quinnipiac finds that nearly a quarter (23%) are African American.
So collectively these results suggest that Meek has much room to grow, and that "political gravity" is poised to work in his favor.
Talking Points Memo
"Kendrick Meek Thumps Jeff Greene In Dems' Florida Senate Primary"
Just when everyone thought he was out, Rep. Kendrick Meek pulled himself back in.
Before we turn our attention to uphill climb Meek now faces against Crist and Rubio, we should take a moment to note the uphill climb he just completed. Meek was all but written off after Greene's barrage of negative advertising left the relatively unknown Meek down in the polls. But Meek battled back, taking on Greene with tough rhetoric in debates and pulling in help from powerful friends like President Clinton and President Obama. He ran negative ads of his own and likely was overjoyed as media attention quickly deflated the regular-guy image the flamboyant Greene tried to create for himself. Just as he did early in the primary cycle -- when his fundraising prowess cleared the field early -- Meek has shown that he is ready and willing to fight for the nomination.
Rantings From Florida Blog
"Primary Day - FL-Senate"
Meek goes into the general now a bona fide winner, and has proven he can beat back better-funded foes. People need to remember when deciding how to vote in November that this man can win elections. He can fight the good fight. Think Crist is the only person who can fend off Rubio's army of crazy? Forget it. Meek is just as poised to win, and at this point, is the only candidate in the race to emerge victorious in a legitimate contest.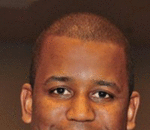 Posted By: Kendrick Meek
Friday, August 27th 2010 at 4:23PM
You can also
click here to view all posts by this author...