www.politico.com/news/stories/0810/41570.html
Florida Democratic Rep. Kendrick Meek said Sunday that he's earned the right to be his party's Senate nominee after a bruising and expensive primary battle with a wealthy real estate mogul.
Meanwhile, Florida Gov. Charlie Crist, running as an independent, would not say with whom he would caucus if he wins this November.
Elected as a Republican, Crist announced in late April that he would run as an independent candidate in the Senate race, after polls showed him trailing former Florida House Speaker Marco Rubio for the GOP nod. A Rasmussen poll last week showed Rubio leading Crist and the new Democratic nominee, Rep. Kendrick Meek, in a general election matchup.
Meek's poor showing in the polls had fueled speculation that Democrats could get behind Crist, but on Sunday, Meek told Bob Schieffer on CBS's "Face the Nation" that he is his party's choice.
"I am the nominee," said Meek, who defeated Jeff Greene in the primary. "I stuck in my primary and fought, and that's what I'm going to do as a United States senator."
When pressed on the issue, Meek did not say whether the White House had given him any guarantee that it would stick by him in the general election. However, Meek did cite President Barack Obama's recent pre-primary campaign visit to Florida as proof of his support.
"President Obama came down seven days before the primary. He didn't have to do that," Meek said. "We went to a sandwich shop together; he showed his support of my candidacy. He's always said he supported my candidacy for the Senate."
Meanwhile, Crist continued to dodge questions about which party he will caucus with if he is elected as an independent to the Senate this fall.
"I caucus with the people of Florida," Crist told CNN's Ed Henry on "State of the Union" on Sunday. "I think they know the way I'm going to go. I am going to go which way is best for them."
And while Meek said he had the support of Obama, it was unclear whether the Democratic congressman would return the favor.
Also on CNN's "State of the Union," Meek left the door open Sunday as to whether he thought Obama should shake up his economic advisory team in the wake of the country's deep economic woes.
Rep. Tom Perriello of Virginia, a Democrat locked in a tough reelection fight, called last week for Treasury Secretary Timothy Geithner to resign. Last week, House Minority Leader John Boehner (R-Ohio) called on Obama to fire Geithner and White House economic adviser Larry Summers.
And while Meek did not go as far as his colleagues, he also added that there is always room for improvement, to "bring players on and take players off."
"Well, when it comes down to it, if certain things are not moving, absolutely," Meek told CNN. "But that's the decision of the White House and not necessarily the decision that I have to make a judgment call on."
But it was Crist who defended the administration's economic stimulus bill, which is one of the most controversial pieces of legislation passed in Obama's first term. He said the economic situation would be much worse without the government intervention in the economy.
"In other words, the statistics you just talked about, the unemployment rate, would be even higher without that help," Crist said.
Crist also said he would not vote to repeal the health care reform law if elected, but instead would work to improve it — a shift from his position earlier this year, when he told Fox News in March that he wanted to repeal it.
"There are parts of it I do support, and there are parts that I take issue with," Crist said. "That's the beauty of being an independent candidate. Had I been there, I would have voted against it. Should I get elected, I'd like the opportunity to fix it."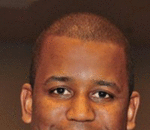 Posted By: Kendrick Meek
Monday, August 30th 2010 at 1:16PM
You can also
click here to view all posts by this author...