www.news-press.com/article/20100830/NEWS0107/100830009/1075/Florida-Dems-getting-louder-in-support-of-Meek
The Florida Democratic Party is making a show of getting solidly behind U.S. Rep. Kendrick Meek, who won the party nomination for the U.S. Senate last week.
State Democratic chairwoman Karen Thurman has a roundtable discussion scheduled today with Meek and Tallahassee reporters. The party had a pair of rallies in Tampa and Orlando last weekend to introduce its entire slate for the fall campaign, including Meek, Democratic gubernatorial nominee Alex Sink and the party contenders for all three Cabinet seats.
Meek also hit the Sunday talk-show circuit on TV, to talk about polls and political support after his 57 percent victory last week over Jeff Greene in the Democratic primary.
His candidacy has been dogged by low expectations, particularly with Gov. Charlie Crist running as an independent. With Meek running a distant third in Senate polls, many national commentators and political analysts have suggested that, the Democratic Party establishment will quietly shift its support to Crist -- who was driven out of the Republican Party by Senate nominee Marco Rubio.
But President Obama and such office-holders as Sen. Bill Nelson have endorsed Meek.
Meanwhile, the Republicans are starting a little unity make-up of their own today. Rick Scott, who won the GOP nomination for governor last Tuesday, has rallies set in Tampa today and Jacksonville tomorrow with Senate President-designate Mike Haridopolos, R-Merritt Island, and House Speaker-designate Dean Cannon, R-Winter Park.
The legislative leaders supported Attorney General Bill McCollum for the nomination. But GOP Chairman John Thrasher and other top Republican officers have said they will support Scott against Sink in the general election.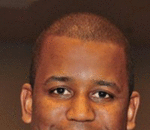 Posted By: Kendrick Meek
Monday, August 30th 2010 at 1:26PM
You can also
click here to view all posts by this author...