Kendrick Meek, Democratic candidate for U.S. Senate, released the following statement after the President's historic address marking the end of combat operations in Iraq:
"After seven long and hard-fought years, our combat mission in Iraq is finally coming to a close."
"We must first recognize the enormous sacrifices of our courageous men and women in uniform and their families. They have excelled in their mission and performed beyond our greatest expectations. Florida is home to nearly two million veterans and it is our responsibility to honor their sacrifices with outstanding care when they return. Above all, we thank them for their service to our country."
"Tonight, the President kept his promise to the American people to end combat operations responsibly and help the Iraqi people take full control over their own future. Our servicemen and women have been away from their families for too long. They have missed birthdays, holidays, and family celebrations. It is time to bring our men and women in uniform home and I look forward to seeing every last one of them return from Iraq by the end of 2011."
"Our mission in Iraq cannot be separated from our domestic priorities. As we cope with the worst economic recession since the Great Depression, we need to start making investments here at home. Bringing the War in Iraq to a responsible close moves us one step closer to that goal.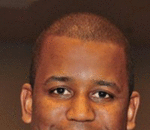 Posted By: Kendrick Meek
Wednesday, September 1st 2010 at 11:51AM
You can also
click here to view all posts by this author...