Dear Friend,
"She'd do a great job." That's what Charlie Crist said about Sarah Palin as President of the United States. If that doesn't tell you where he stands, then I don't know what does.
Crist may want us to forget he's a conservative Republican, but the past keeps coming back to haunt him.
That's just one reason I'm supporting Kendrick Meek. Kendrick understands that you don't send politicians to Washington to flip flop--you send public servants there to get things done.
You know where you stand with Kendrick because he doesn't change his values and beliefs based on which way the political winds are blowing.
We can't let Crist pretend to be a "moderate," particularly after appointing George LeMieux, who's voted no on health care, no on Wall Street reform, and no on extending unemployment benefits. That's why I'm helping Kendrick raise the money he needs now so he can get on the air, reach voters and make sure they know the truth.
Click here to send a donation of $5 or more to Kendrick's campaign so we can reach our goal of raising $50,000 before the midnight September 1 deadline.
http://bit.ly/avncCL
As much as Crist and Marco Rubio would like to paint themselves as independent voices, the fact is that they're both lifelong, conservative Republicans who are beholden to special interests and wealthy donors.
Kendrick is the only real Democrat in this race. He is the only candidate who is 100 percent against privatizing Social Security, who has consistently supported a woman's right to choose, and who has opposed offshore drilling--both before and after the terrible spill in the Gulf.
While Kendrick has been locked in battle for the Democratic nomination, Crist and Rubio have had plenty of time to build up their war chests for the upcoming general election. We've got to catch up.
Because this is a three-way race, anything can happen. So we need you--our grassroots supporters--to do everything in your power to make sure Kendrick has the resources he needs to defeat these two conservatives and be a voice for all Floridians in Washington.
Click here to make an immediate donation to Kendrick's campaign so we can reach our goal of raising $50,000 before midnight September 1.
http://bit.ly/avncCL
We can't afford to send a wild card like Charlie Crist to the U.S. Senate. After all, if it were up to him Sarah Palin would be doing a "great job" in the White House. We need to send someone we can be sure of--someone who will do the right thing. That's Kendrick Meek.
Sincerely,
Rep. Alan Grayson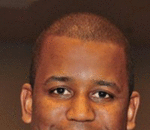 Posted By: Kendrick Meek
Wednesday, September 1st 2010 at 12:23PM
You can also
click here to view all posts by this author...