The Revolution Will Not Only Be Televised, But Also Provided In Surround Sound With An Appropriate Soundtrack.
On what has been one of most historic presidential elections of our lifetime, Raheem DeVaughn and Wes Felton, collectively known as The CrossRhodes are back with the, The Great Debate mixtape. Available for a free download via Datpiff.com, The Great Debate mixtape speaks to the importance of social consciousness and political awareness. 
https://m.datpiff.com/upcoming/811196
The CrossRhodes Manifesto
The intersection of our vision, dreams, beliefs and reality. We are taking back the linage of what they have stolen. We also acknowledge our immediate ancestors who used the Rhodes piano to create soul music.
Our logo captures the intersection of 4 elements of life for what it means to be human, men, Black, fathers, lovers, believers in God and artists.
1.The gun reflects the fact that we see our art and community at the Crossrhodes of both the living and dying by the gun which is reflected in both the  growing BLM movement about violence against our community and the continued work we have to do about the violence we inflict on each other in our community.
2.The heart reflects the love which is at the root of our music and the movement we are building as men who love, feel, care and struggle.
3.The fist reflects the beauty and power of our commitment to our struggle.  We understand that we come from a long tradition of elder and ancestor artists. A legacy which we have an obligation to continue, transform, and pass on to the next generation.
4.The microphone reflects our art, culture and music which when crossed with love and consciousness is what can use to teach, heal and rebuild our community.
- Minister of Domestic and International Information of The CrossRhodes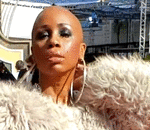 Posted By: Tanisha LaVerne Grant
Wednesday, November 9th 2016 at 10:17PM
You can also
click here to view all posts by this author...