Don't miss an unforgettable night when comedy icons Tracy Morgan, Mike Epps and Gabriel Iglesias; rappers Doug E. Fresh and Rakim; and classic musical acts Bell Biv DeVoe and En Vogue return home to the Apollo stage on SHOWTIME AT THE APOLLO. The two-hour event, hosted by Emmy Award-winning personality Steve Harvey, airs Monday, Dec. 5 (8:00-10:00 PM ET/PT) on FOX. Additional guests and performers to be announced.
Along with the well-known acts, the special will showcase Apollo's legendary Amateur Night – the long-running, live talent competition, now in its 82nd year – which provides a platform for up-and-coming artists to perform in front of the toughest audience in the world. The Apollo audience is famed as one of entertainment's most boisterous and brutally honest and those amateurs who don't win over the crowd risk being booed off the stage.    
About the Apollo Theater
The legendary Apollo Theater – the soul of American culture – plays a vital role in cultivating emerging talents and launching legends. Since its founding, the Apollo has served as a center of innovation and a creative catalyst for Harlem, the city of New York and the world. With music at its core, the Apollo's programming extends to dance, theater, performance art, spoken word initiatives and more. This includes the October 2014 premiere and 2015 international tour of the dance celebration project "James Brown: Get on the Good Foot"; the annual Africa Now! Festival; Apollo Club Harlem; and the 2016 New York premiere of the opera "Charlie Parker's YARDBIRD." The Apollo is a presenting organization that also produces festivals, large-scale dance and music works organized around a set of core initiatives: Apollo Music Signature Programs – Amateur Night, Salon Series and Apollo Music Café; Legacy Series – work that celebrates and extends the Apollo's legacy through a contemporary lens; Global Festivals, including the Women of the World (WOW) Festival and Breakin' Convention; international and U.S.-based artist presentations focused on a specific theme; and Special Projects – multidisciplinary work with partner organizations. Since introducing the first Amateur Night contests in 1934, the Apollo Theater has served as a testing ground for new artists working across a variety of art forms, and has ushered in the emergence of many new musical genres, – including jazz, swing, bebop, R&B, gospel, blues, soul, and hip hop. Among the countless legendary performers who launched their careers at the Apollo are D'Angelo, Lauryn Hill, Machine Gun Kelly, Miri Ben Ari, Ella Fitzgerald, Sarah Vaughan, Billie Holiday, James Brown, Michael Jackson, Gladys Knight, Luther Vandross and Stevie Wonder; and the Apollo's forward-looking artistic vision continues to build on this legacy.  
The Apollo Theater is a not-for-profit organization with the mission to extend the institution's role in fostering artistic innovation and in building appreciation of American culture around the world. For more information, visit
www.apollotheater.org.
                                                                                            -more-
SHOWTIME AT THE APOLLO will be executive-produced by Jim Roush and Chris Wagner for the Roush-Wagner Company. Reginald Hudlin will executive-produce and serve as showrunner.  Don Weiner will executive-produce and direct the special. Jonelle Procope will serve as an executive producer for the Apollo Theater and Michael Antinoro will serve as an executive producer for IMG. "Like" the series on Facebook at facebook.com/FOXTV  and facebook.com/ApolloTheater. Follow the special @FOXTV and @ApolloTheater.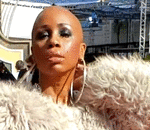 Posted By: Tanisha LaVerne Grant
Friday, November 18th 2016 at 9:15PM
You can also
click here to view all posts by this author...