ENTERTAINMENT CORRESPONDENT TANISHA LAVERNE GRANT talks with director J. D. DILLARD and actor JACOB LATIMORE of the brand new SCI FI FILM "SLEIGHT. Jacob Latimore hits his acting stride as "Bo" the orphaned street magician drug dealer in J.D. Dillard's debut Coming of Age Sci Fi Thriller "SLEIGHT"  that garnered generous reviews at Sundance Film Festival and will open in 1,000 theaters across the U.S tomorrow April 28th. In this multi layered narrative Dillard uses magic as the intersection between the inner city black male experience and the opportunities for success that often eludes them. Jacob Latimore 
( Black Nativity, Collateral Beauty, Maze Runner) offers both sensitivity and street bravado to his character who also has the overwhelming task of raising his kid sister "Tina" portrayed by Storm Reid (12 Year's A Slave) and bringing her to safety after his involvement in drug dealing results in her being kidnapped. Using Los Angeles as a backdrop Dillard did an excellent job in portraying the many issues that often times plague young black males and how adaptable they must be to overcome such insurmountable issues.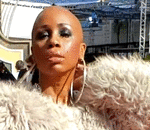 Posted By: Tanisha LaVerne Grant
Thursday, April 27th 2017 at 12:31PM
You can also
click here to view all posts by this author...