New York, NY (April 29, 2017) To a sold out house of over 6000 at Radio City Music Hall, the Tribeca Film Festival closed with a 45th anniversary screening of The Godfather followed by a screening of The Godfather: Part II and a cast reunion. Taylor Hackford moderated the once in a lifetime hour and a half long conversation with Francis Ford Coppola and cast members Diane Keaton, James Caan, Robert Duvall, Al Pacino, Talia Shire and Robert De Niro. The audience was filled with fans including Leonardo DiCaprio, Mayor Bill De Blasio, Peter Fonda, Alessandro Nivola, Whoopi Goldberg, Julian Schnabel, as well as family members Robert Schwartzman and Sofia Coppola. 
The full conversation can be seen at:
https://www.facebook.com/Tribeca/videos/vb.10854154757/10155341025099758/?type=3&theater
Below are some highlights:
Francis Ford Coppola on his inspiration for the film: 
"I was attracted to it because I thought it was a foreign author, and an intellectual book about power," Adding, "I was disappointed in the book when I first read it because it's very long. Much of the book — about a third — is about Lucy Mancini's anatomy."
On getting The Godfather made today, Francis Ford Coppola said: "This film could be made today, but it wouldn't get a go ahead from a studio. The first film was made for about $6.5 million; the second was made for $11 or $12 million.  Would never get a green light today."
Casting was a constant battle between Francis Ford Coppola and the studio. Coppola wanted Brando, but the studio claimed he was a financial liability: "It was not [convincing] Brando, it was convincing Paramount. Finally I was told by the President of Paramount, 'Brando will not appear in this picture, and I prohibit you from saying his name again.' I fell on the floor."
Francis Ford Coppola was sure of Al Pacino as Michael Corleone, but the studio wasn't convinced: "I just saw his face," said Coppola, "Once you see someone in the role, it's very hard to get that out of your head."
Added Pacino: "It seemed like I was always testing. I was still testing after I got the part."
Diane Keaton on Coppola's decision to cast her: "I read recently that Francis gave me the part because he thought I was eccentric. He wasn't wrong." 
James Caan on Coppola's casting insight: "Francis, you know, somehow in his young little mind, just knew who had it and who didn't. He knew who every character was."
Al Pacino credited Coppola for his livelihood: "Without Francis, where would I be?"
James Caan on the cat: "That cat, it sat like it was there for a thousand years. He was only in one take, and you feel like that is Vito's cat."
Taylor Hackford on Godfather history: "The Godfather is the only time in history two actors have won the academy award for playing the same character in two different films." 
Diane Keaton to Francis Ford Coppola on re-watching the film recently: "I watched it on my computer recently. I hadn't seen it in about 30 years. I couldn't get over it. It was so astonishing. Francis, it was so beautiful. And everybody is so great in it. Every choice you made was so authentically brilliant. I just kept crying, and that damn Talia. I am not kidding.... Everything was like astonishing to me, ok, and I didn't expect it […]"
Al Pacino on his passion and method for The Godfather: "The studio didn't want me after they hired me. I was living on 90th and Broadway at the time. I walked to the village and back; I did it every day, thinking about this role. Just thinking where I could go with it. I came, and started filming it, I was dizzy. I was new to film. We were theater actors, weren't used to film."
Francis Ford Coppola on viewing the films for the first time in many years: "I found it a very emotional experience. I forgot a lot about the making of it."
Twitter: @Tribeca
Instagram: @tribeca
Facebook:  facebook.com/Tribeca 
Snapchat: TribecaFilmFest
Hashtag: #Tribeca2017
About the Tribeca Film Festival
The Tribeca Film Festival is a cultural event for the new age of storytelling that brings together visionaries across industries and diverse audiences. It celebrates the power of storytelling in a variety of forms – from film to TV, VR to online work, and music to gaming. As a platform for creative expression, independent filmmaking, and immersive entertainment, Tribeca champions emerging and established voices, discovers award-winning filmmakers and creators, curates innovative experiences, and introduces new technology and ideas through premieres, exhibitions, talks, and live performances.
The Festival was founded by Robert De Niro, Jane Rosenthal and Craig Hatkoff in 2001 to spur the economic and cultural revitalization of lower Manhattan following the attacks on the World Trade Center. With strong roots in independent film, the annual event has evolved into a destination for creativity, reimagines the cinematic experience, and explores how art can unite communities.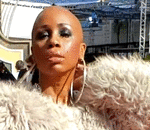 Posted By: Tanisha LaVerne Grant
Sunday, April 30th 2017 at 9:36PM
You can also
click here to view all posts by this author...