Growing up on Chicago's south side, Modteets Williams dreamed of achieving fame and fortune as a professional basketball player.
These days, Williams sees entrepreneurship as his path to success, and he's traded in his basketball sneakers for a business plan.
Williams opened Mod's Market, a convenience store located on the first floor of the Roosevelt Building in downtown Cedar Rapids, on Aug. 1. The store offers grocery items, snacks, beer, wine, tobacco and household necessities, similar to the 7-Elevens that Williams was used to seeing on so many Chicago street corners.
He hopes it will be the first of many such stores in Iowa and elsewhere.
"I think I can build my own brand of convenience store," he said. "I'd love to build traction here and then go other places."
Williams, who played college basketball at Langston University in Oklahoma, relocated to Cedar Rapids in February 2014 to be near his older brother. Even then, he continued to pursue a career in basketball and attended various camps hoping for an opportunity to play professionally overseas.
"It becomes a lot of stress and a lot of money spent," he observed. "My goal always was to make enough money playing professionally so I could go into business someday."
So he set out to reach his financial goals without basketball, working up to three jobs at a time.
His first business opportunity came about 18 months ago when he entered into a partnership with his father to buy a car wash and hair salon back in Chicago. But he believed most people viewed those ventures as his father's businesses, not his.
"In the culture around me where I grew up, you don't have a lot of people who believe in you," he said. "I quickly figured out within myself that this isn't enough, that I needed to provide more opportunities for myself."
Williams found a mentor in Cedar Rapids and, with her help, identified the need for a convenience store for downtown residents, workers and hotel guests. He obtained low-interest financing through the city of Cedar Rapids' microloan and flood loan programs and, though his own research, found a program through Iowa Workforce Development to assist with payroll costs for his three employees.
The store's build-out was frustratingly slow, delaying the opening for more than a year from the time Williams signed the lease. But he said his efforts are starting to pan out now, as evidenced by the new faces coming into the store every day.
One measure of success was when a new customer said, "Someone told me to come over to Mod's."
"It was the best compliment I had, and it wasn't even meant as a compliment," Williams said. "He didn't say, 'Come over to the convenience store on the corner.' The store has a name."
AT A GLANCE
Owner: Modteets Williams Jr.
Business: Mod's Market
Address: 200 First Ave. NE, Suite 124, Cedar Rapids
Phone: (319) 249-1122
Email: modteetsw@modsmarkets.com
Facebook:
www.facebook.com/modsmarket
l Know a business in operation for less than a year that would make an interesting "Ground Floor"? Contact michaelchevy.castranova@thegazette.com.
Photo: Modteets Williams Jr. owner of Mod's Market, 200 First Ave. NE, suite 124, smiles as he works at his convenience store on the ground floor of the Roosevelt Building in northeast Cedar Rapids, Iowa, on Friday, Dec. 8, 2017. The store has been open since August. (Jim Slosiarek/The Gazette)
By Deborah Neyens, correspondent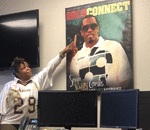 Posted By: Elynor Moss
Wednesday, December 13th 2017 at 1:24PM
You can also
click here to view all posts by this author...