To kick off its celebration of Black History Month, Medgar Evers College recognized a woman whose fight for social justice celebrates the legacy of the institution's namesake, Medgar Wiley Evers. The College honored L. Joy Williams, President of the Brooklyn chapter of the National Association for the Advanced of Colored People (NAACP) and host of the podcast, "Sunday Civics," with its Trailblazer Award.
Williams, who is the youngest adult NAACP branch President in the state of New York, told the audience they should not allow themselves to become stuck in the space of waiting for things to change.
.
"Very few of us know the power that we possess when it comes to politics," said Williams "We experience government and politics as something that happens to us and not as something that we have the power to shape and control and that leaves you at a disadvantage"
The Trailblazer awardee said it's not only important for everyone in the audience to become active in the political process but to also encourage others around them to be active.
"Make sure that we are not passing along that passive nature of waiting for government to do something beneficial for us." Williams added "change our parents' mindset, change our nieces' and nephews' and everyone's mindset that we have a right to be at the table and determine the menu and the actions that will take to advance our community and our society."
https://ares.mec.cuny.edu/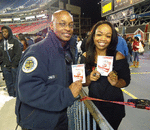 Posted By: Elynor Moss
Wednesday, February 14th 2018 at 2:14PM
You can also
click here to view all posts by this author...