Many Tennessee State University students took a major leap toward their future Wednesday.
More than 50 companies and organizations set up booths in Kean Hall for TSU's second annual Spring Internship Fair.
TSU President Glenda Glover and a host of university officials stopped by the various booths to view the displays and greet vendors.
Alonzo Furtick, a graduating senior majoring in business marketing and graphic design, was one of the first students to show up.
The Charlotte, North Carolina native saw the fair as an opportunity to get an early start on a search for potential internship or employment opportunity.
"The fact that TSU gives us this kind of opportunity to grow and expand and be exposed to different areas is phenomenal," Furtick said. "I am a senior, I expect to graduate this semester. Ideally, I am looking for any business marketing internship or graphic design internship."
Altria, a Fortune 500 company based in Richmond, Virginia, is one of the sponsors of the fair. The company has partnered with the TSU Colleges of Life and Physical Sciences, and Engineering, to groom science and engineering students. It has already hired a TSU engineering graduate who was recruited as an intern at last year's fair.
A recruitment team from Altria participates in the Spring Internship Fair. From left are: Latoya Boone, Priscilla Maquire, Lynora Lee and Roosevelt Reynolds. Reynolds, a reliability engineer at Altria's facility in Nashville, is a TSU graduate. He was recruited as an intern at last year's fair and worked his way up to full employment. (Photo by John Cross, TSU Media Relations)
"Tennessee State University is one of our target schools," said Greg Shiflette, a recruiter and functional campus owner with Altria. "With Altria, we don't go to all the schools in the country. We target our resources to specific universities, and so TSU is one of our target schools where we are dedicating our resources to come in and recruit."
Roosevelt Reynolds, who graduated from TSU last December, is the reliability engineer at the Altria facility in Nashville. He joined the company as an intern and worked his way up to full-time employment.
"My TSU preparation as a mechanical engineer and capabilities in other areas of manufacturing gave me the tool to do the very work I am doing right now at Altria," said Reynolds, who is from Birmingham, Alabama. "I am forever grateful to the College of Engineering, and especially Tennessee State University, for the exposure that has helped me to integrate myself in various processes in my work area."
Reynolds is also part of Altria's recruitment team.
Charles Jennings, director of TSU's Career Development Center, said he is excited about the "overwhelming" growth of the fair in just its second year.
"When we had the Spring Internship Fair for the first time last year, we only had 28 employers who signed up," Jennings said. "This year we have more than 50. We are very proud of the increase; we are very proud of the diversity of businesses and organizations that are here today."
He credits the various colleges and departments for the success, especially the Office of Academic Affairs, which gave students excuse from class to come to the fair.
"This is really paying off for us," Jennings said.
Some of the other companies, businesses and organizations at the fair were: Regions Bank, Skanska, Aramark, the Tennessee National Guard, Enterprise, and Nashville Public Television.
Department of Media Relations
Tennessee State University
3500 John Merritt Boulevard
Nashville, Tennessee 37209
615.963.5331
About Tennessee State University
With more than 8,000 students, Tennessee State University is Nashville's only public university, and is a comprehensive, urban, co-educational, land-grant university offering 38 bachelor's degree programs, 25 master's degree programs and seven doctoral degrees. TSU has earned a top 20 ranking for Historically Black Colleges and Universities according to U.S. News and World Report, and rated as one of the top universities in the country by Washington Monthly for social mobility, research and community service. Founded in 1912, Tennessee State University celebrated 100 years in Nashville during 2012. Visit the University online at tnstate.edu.
Author: Emmanuel Freeman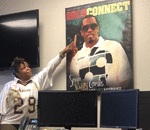 Posted By: Elynor Moss
Monday, February 19th 2018 at 10:16PM
You can also
click here to view all posts by this author...