Isaiah John portrays "Leon" in John Singleton's new hit television series "Snowfall" which explores the pre crack era of the 1980''s. In an interview with entertainment correspondent Tanisha LaVerne Grant Isaiah talks about how he almost missed out on the amazing opportunity.
ABOUT THE SHOW 
Snowfall continues its riveting story about the infancy of the crack cocaine epidemic and its ultimate radical impact on the culture as we know it.
Season two follows our ensemble of characters as they intersect and overlap within the mosaic of Los Angeles as we enter 1984. All of them are working toward their ultimate goals of money, power, and influence including: Franklin Saint (Damson Idris), a young street entrepreneur beginning to experience the perils of success; Teddy McDonald (Carter Hudson), a CIA operative who finds that his off-book drug-funded operation may be vulnerable from unexpected sources, both personal and professional; and Gustavo "El Oso" Zapata (Sergio Peris-Mencheta) and Lucia Villanueva (Emily Rios), the drug-running couple who discover the potency of crack and try to exploit it, despite the new dangers involved. 
Snowfall is created by John Singleton & Eric Amadio and Dave Andron and Executive Produced by Singleton, Andron, Thomas Schlamme, Amadio, Michael London and Trevor Engelson. Andron will serve as showrunner. 
Facebook - www.facebook.com/SnowfallFX 
Instagram - www.instagram.com/SnowfallFX 
Twitter - www.Twitter.com/SnowfallFX 
Website - www.fxnetworks.com/shows/snowf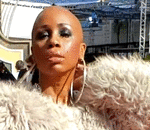 Posted By: Tanisha LaVerne Grant
Thursday, September 13th 2018 at 1:44PM
You can also
click here to view all posts by this author...