One of Hollywood's biggest nights in diversity is "Uptown Honors Hollywood" Pre-Oscar gala presented by Lexus.The intimate black tie dinner took place on Wednesday, February 20, 2019.  Uptown Magazine honored two of Hollywood's elite visionaries, known for films on the big screen we know and love and collectively they include (Shaft, Mudbound, Barbershop, Soul Food, Think Like A Man, Fantastic Four, The Hate U Give, Notorious, Ride Along, Roll Bounce, Men of Honor) and many more box office hits. One of those Honorees is Director Tim Story.
Director Tim Story is one of the highest grossing African American directors in the world. He is the first African American director to cross the $1 billion mark at the box office and to direct a Marvel film. Story has directed eight feature films. Seven of his films debuted at number one at the box office – Ride Along 2, Think Like A Man Too, Ride Along, Think Like A Man, Fantastic Four: Rise of The Silver Surfer, 2005's Fantastic Four and Barbershop. His next film, Shaft, starring Samuel L. Jackson will open in theaters June 2019. 
About UPTOWN Magazine
Founded in 2004, UPTOWN is the only luxury lifestyle brand that targets the Affluent African American (AAA) Market. UPTOWN Magazine affords luxury purveyors the broadest access to this highly sought-after audience. Uptown offers both traditional and innovative strategies across multiple platforms including UPTOWN Magazine, UptownMagazine.com, signature events, branded and original content.   
About Lexus
Lexus' passion for brave design, imaginative technology, and exhilarating performance enables the luxury lifestyle brand to create amazing experiences for its customers. Lexus began its journey in 1989 with two luxury sedans and a commitment to pursue perfection. Since then, Lexus has developed its lineup to meet the needs of global luxury customers in more than 90 countries. In the United States, Lexus vehicles are sold through 241 dealers offering a full lineup of luxury vehicles. With six models incorporating Lexus Hybrid Drive, Lexus is the luxury hybrid leader. Lexus also offers eight F SPORT models and two F performance models. Lexus is committed to being a visionary brand that anticipates the future for luxury customers.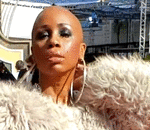 Posted By: Tanisha LaVerne Grant
Friday, February 22nd 2019 at 7:28AM
You can also
click here to view all posts by this author...