Entertainment journalist and red carpet correspondent Tanisha LaVerne Grant joins Black Hollywood Live's "THA TREND' as guest co-host! Grant a well respected multi award winning entertainment journalist will join "THA TREND 'S" executive producer Derrial Christon, co host Courtney Stewart, and co-host DJ Jesse Janedy in weighing in the hottest topics in pop culture. 
TO LEARN MORE ABOUT TANISHA LAVERNE GRANT CLICK THE IMDB LINK BELOW 
IMDb bio for Tanisha Grant 
Tanisha Grant 
https://www.imdb.com/name/nm2245139/ 
Instagram @tanishalavernegrant 
FULL EPISODE TANISHA LAVERNE GRANT TALKS R KELLY   
FULL EPISODE TANISHA LAVERNE GRANT TALKS JUSSIE SMOLLET   
FULL EPISODE TANISHA LAVERNE GRANT TALKS WILL SMITH'S BUCKET LIST   
ABOUT THA TREND: 
Tha Trend features the hottest trending news of the week in social media that the culture is talking about.  The show mixes informative conversations, humor,  with a little bit of shade. From entertainment, music, politics to sports, Tha Trend has weekly discussions with Tv Host / Black Hollywood Live EP Derrial Christon & Actress Courtney Stewart.   Each week the show will also bring in opinionated celebrity guests & influencers to add to the trending topics discussed.  Join us on Tha Trend each week on Black Hollywood Live. Make sure to subscribe to BHL! - http://youtube.com/blackhollywoodlive HELPFUL LINKS: Website - http://blackhollywoodlive.comFollow us on Twitter - https://twitter.com/bhlonline 
ABOUT BLACK HOLLYWOOD LIVE: 
Black Hollywood Live is the world's first online broadcast news network with programming and content dedicated to African American entertainment news. The network features long form, in-depth celebrity interviews, smart commentary and discussion as well as news and inside information. The network was created by television personality Maria Menounos and producer Keven Undergaro. Black Hollywood Live had guests from shows/films like 12 Years A Slave, The Butler, America's Got Talent, The Game, Chicago Fire, Believe, Hannibal, Suits, Parks and Recreation, Dallas Buyers Club, Real Husbands of Hollywood, The Best Man Holiday, The View, Shameless, Basketball Wives, Being Mary Jane, Scandal, Single Ladies and many more. Notable guests on the network include: host Wayne Brady, The View's Sherri Shepherd, Late Night's Jimmy Fallon and Seth Meyer and others.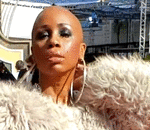 Posted By: Tanisha LaVerne Grant
Wednesday, March 13th 2019 at 5:21PM
You can also
click here to view all posts by this author...