Unilever, Google &  DIAGEO To Celebrate Pride, Fellowship And Black Excellence At 5th Annual HBCU SpringComing™ Celebration In New York City
Over 5,000 HBCU Graduates & Allies To Attend Week-long Event Series To Encourage Networking, Empowerment and More From April 17-21, 2019
(New York, NY-April 18, 2019)-- Kicking off New York City's Festival Series, thousands of Historically Black Colleges & University (HBCUs) graduates, influencers and allies prepare to converge on the world's capital from April 17-21, 2019 for the 5th Annual HBCU SpringComing™ Celebration. HBCU SpringComing™ draws attendees from the country's 101 HBCUs to enjoy a full weekend of events that offer innovation, education, fitness, strategy, networking, fellowship and a social escape. 
 Created in 2015 by proud HBCU Graduates and Entrepreneurs, Lauren Grant (Florida A&M University, The Grant Access) and George TwoPointOh (Morehouse College, Listen TWO Me), the HBCU SpringComing™ was designed as an opportunity to connect local HBCU grads whose life demands made it difficult to travel back to their alma maters in the fall. It was planned as an experience that would resemble the feel of a college homecoming, while benefiting the younger generation of students who aspired to attend an HBCU. The vision has now grown into an attraction that draws thousands from across the country.
This year's official lineup of events over the weekend includes a summit with global brand Unilever, Innovation Lab at Twitter, a Saturday morning fitness bootcamp, the flagship "School Daze" tailgate, Sunday worship service and several parties. In addition, this milestone will be marked by the inaugural private reception, Toast Of The Living Gallery, recognizing the outstanding accomplishments of notable HBCU graduates and allies in business, social activism and law. This year's honorees include : Julia Collins, Dr. Wes Bellamy (Virginia State University), Joi Brown (Howard University), Dhane Scotti (Florida A&M University), and Londyn Richelieu (Morehouse College).  
Recognizing the importance of celebrating education and excellence, Unilever has partnered with The Grant Access, LLC and Listen to Me, LLC as a lead sponsor to host this year's event. In addition to Unilever, other national sponsors include Google, Nielsen, Polaris (specifically the Slingshot), NYC Small Business Services, Black News Channel, Cantu and Diageo. Partial proceeds from the weekend will benefit the Puissance Scholarship—a scholarship created for students interested in attending an HBCU.  
To learn more about HBCU SpringComing ™ or to register for any of the events , please visit www.hbcuspringcoming.com.  
For all media inquiries, please contact Syreta J. Oglesby of SJO Public Relations at syretajoglesby@gmail.com.
About HBCU SpringComing:
HBCU SpringComing is an annual event held in New York City. Initially designed as a homecoming in the Spring, it is an opportunity for all college graduates to reunite and socially engage with one another through a weekend of events. In its first year, SpringComing yielded an audience of 1,500+ people. Since its inception, the event series attracts over 5,000+ HBCU Graduates and Allies from around the country.  
SPRINGCOMING SOCIAL MEDIA PLATFORMS:
Website - www.hbcuspringcoming.com
Facebook - https://www.facebook.com/events/230591387273834/
Twitter - https://twitter.com/SpringComingNYC Hashtags - #HBCUSpringComing #HBCUSpringComing18 #HBCUnion
Instagram - https://www.instagram.com/hbcuspringcoming  
About The Grant Access, LLC
Founded in 2014 by Chief Experience Architect Lauren Grant, The Grant Access (TGA) brings almost 15 years of event planning, execution, and operational excellence. TGA has an impressive portfolio, collaborating with organizations, including: REVOLT TV, Nielsen, American Association of Advertising Agencies (4A's), and Essence Music Festival. Utilizing a collaborative approach has allowed TGA to build a vast network of vendors with whom they negotiate to maximize value for clientele at all budget levels. Lauren's hands-on approach and attentiveness signifies her understanding and ultimately executing their vision. Lauren is a graduate of the School of Business and Industry at Florida A&M University, receiving a Bachelor of Science and MBA with a concentration in Business Administration and Marketing, respectively. Currently a resident of Newark, NJ, Lauren will always be a southerner at heart, hailing from Columbia, South Carolina.    
About Listen TWO Me, LLC
Listen Two Me engages with some of the most innovative professionals in the entertainment industry, modeling and developing new ways for brands (and bands!) to use their imaginations to create connections with consumers. With founder, George Twopointoh serving as Director of Creative Operations, Listen TWO Me has partnered with well identified brands such as Wondaland Records, VEVO, CNN, HLN, REVOLT TV, Hendrick's Gin, T-Mobile and Genworth Financial to capture audiences' attention in distinct ways. Specializing in live experiences, George's ability to close the gap between the Idea and the Execution has been sought after by entertainers Janelle Monae and Jidenna. L2M houses performance coaches and directors that speak the artist's language along with proven production and stage managers
that execute the artless details. George is a graduate of Morehouse College with two decades of experience managing productions around the world.    
About Puissance Scholarship:
In 2012, five HBCU grads set out to shatter the perception that black alumni don't give back to their alma maters. Lauren Legette, (Hampton '11), Alize Beal (Howard '12), Brendan Francis (Howard '12), Roger Rojas (Morgan State '01), and Anastazia Neely (Hampton '12) founded the Puissance Scholarship, to aid in offsetting the cost of college tuition for high school seniors bound for an HBCU. Scholarships are solely awarded thanks to generous monetary donations of fellow HBCU graduates and sponsors. Outside of the scholarship, the team develops programs to increase awareness about the benefits of HBCU for prospective students and to provide a network of support for the alumni they will become.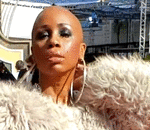 Posted By: Tanisha LaVerne Grant
Friday, April 19th 2019 at 2:22PM
You can also
click here to view all posts by this author...