PROSPERITY NATION HOSTS FREE FINANCIAL LITERACY EXPO FOR MILLENNIALS: THE MILLENNIALS MMXIX EXPO
Featuring Workshops and Panel Discussions with Top Business, Real Estate, AI, VR and Mental Health Leaders On a Mission to Get Millennials Future-Ready
Saturday, April 20th - 9:00 AM - 5:00 PM @ BKLYN Studios, City Point Brooklyn
Dr. Jeff Gardere, inventor Alan Amron, Ivy Rivera and more to speak at Prosperity Nation's Financial Literacy Month event, sponsored by iHeartMedia's Power 105.1 F.M.
WHO: Prosperity Nation, a not-for-profit organization dedicated to promoting Financial Literacy, Entrepreneurship, Empowerment and Self-Esteem to Millennials, Teens and Disadvantaged Youth, is celebrating Financial 
Literacy Month with a FREE all-day event complete with workshops, 
interactive stations, and panel discussions led by top entrepreneurs, 
educators and mental health specialists.
Special Guests and Speakers include: 
--D. Alexis Samuels, Founder & Executive Director of Prosperity Nation 
--Dr. Jeff Gardere, a.k.a. "America's Psychologist" 
--Alan Amron, Millionaire Inventor 
--Maryam Farooq, Founder & Director of New York Artificial Intelligence 
--Ivy Rivera, TV and Radio personality 
--Music by Power 105.1 F.M.'s DJs
WHEN: Saturday, April 20TH | 9:00 AM to 5:00 PM
WHERE: BKLYN Studios @ City Point: 445 Albee Square West, Brooklyn, NY
ADDITIONAL INFO:
THE MILLENNIALS MMXIX EXPOHosted by Sandra Garcia Lowery9:30-11:30 AM | ARTIFICIAL INTELLIGENCE 101
Presented by NYAI- Millennials aren't finding jobs in their disciplines of study and require future-proofing through data science knowledge.
11:30 AM | Musical Performances
The expo features music by iHeartMedia's Power 105.1 F.M. DJs and performances by hip-hop artist, Sky Seay, and sibling R&B duo, producer, Devan Ibiza, and singer, Mia Lailani.
NOON | GET YOUR MIND RIGHT
Discussion encouraging mental well-being led by "America's Psychologist" Dr. Jeff Gardere, who'll address recent reports on the increase of younger patients with thoughts of suicide, the correlation between financial literacy and depression and destigmatizing Millennial anxiety.
12:30 PM | GET ON THE ROAD TO PROSPERITY
Financial wellness discussion with Road to Prosperity founder, D. Alexis Samuel, panelist Sherkera Green, Executive Market Director, JPMorgan Chase & Co. and moderator Doria Lavagnino, journalist and Co-Founder & President, of the personal finance platform, Centsai.com, will help Millennials and Gen Xers fuel-up on knowledge for a better future.
1:00 PM | GET REAL
Get success keys from Brooklyn-bred Millennial Real Estate pros, Rachel Disalvo and Christopher Lee on prospering through a property.
1:30 PM | CUT FROM THE KLOTH
Successful Millennial fashion entrepreneurs, celebrity stylist, Fashion GXD magazine founder and talent agent, Pilar Scratch, with sneaker culture envoys, ZekeSneaks' Raaziq Eiland, and Fly Boys Courte Club's Dee-NYCE, will speak on ways to style your future.
2:00P | INVENT YOUR FUTURE
Millionaire inventor, who's behind success stories like the Post-it® and over forty U.S. patents, Alan Amron, will give aspiring creators tips on how to stick to a plan, and sell their ideas.
2:30-5:00 PM Prizes, raffles, fundraising, and music continues.
At 7 P.M, the inaugural Prosperity Awards, a red carpet fundraiser to benefit nationwide organization initiatives focused on financial literacy, mental health curricula, and scholarships, begins.
Television and radio personality, Ivy Rivera, will host the event with music by DJ Prostyle of the Pro Show on Power 105.1 F.M.
INTERVIEWS AVAILABLE UPON REQUEST
FOR MORE INFORMATION, VISIT: MILLENNIALS.VIP | PROSPERITYNATION.ORG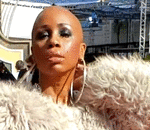 Posted By: Tanisha LaVerne Grant
Friday, April 19th 2019 at 10:28PM
You can also
click here to view all posts by this author...