Legendary director John Daniel.Singleton died on April 29th after a suffering a stroke. He rose to prominence in 1992 as the youngest director and first African American nominated for an academy award for his American classic film "Boyz in the Hood" at the world premiere of Deon Taylor and Roxanne Avents new film "The Intruder" celebs and the cast of the film took time to remember the legendary filmmaker.
Meagan Good and Michael Ealy star opposite Dennis Quaid in a brand new thriller "THE INTRUDER" directed and executive produced by husband and wife team Deon Taylor and Roxanne Avent.
" THE INTRUDER" is a film about a young married couple Scott and Annie Russell who couldn't be happier after buying their dream home from a mysterious and lonely widower named Charlie in Napa Valley, Calif. Their newfound paradise soon turns into a living nightmare when Charlie -- still strangely attached to the house -- begins to show up and interfere in their daily lives. When his erratic behavior turns to obsession, the young couple soon find themselves caught up in a violent confrontation that threatens to destroy everything they hold dear.
"THE INTRUDER" opens IN THEATERS EVERYWHERE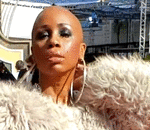 Posted By: Tanisha LaVerne Grant
Monday, May 6th 2019 at 3:25PM
You can also
click here to view all posts by this author...