Morehouse College seniors got a surprise Sunday when billionaire investor Robert F. Smith announced during his commencement speech that he would pay off the student-loan debt for the historically black college's graduating class.
"My family is going to create a grant to eliminate your student loans," he told the newly minted graduates in Atlanta.
The announcement -- in which Smith urged the graduates to follow his lead in paying it forward -- was met with a standing ovation and chants of "MVP!"
The sum among the 396 students adds up to about $40 million, said Morehouse President David A. Thomas. He called Smith's gesture "a liberation gift."
"When you have to service debt, the choices about what you can go do in the world are constrained," he said. "(Smith's gift) gives them the liberty to follow their dreams, their passions."
Students say they're overwhelmed with gratitude
Students couldn't believe their ears when Smith made the announcement, three graduates of the all-men's college told CNN.
"We're looking at each other like, 'Is he being serious?' That's a lot of money," salutatorian Robert James, 21, said.
Jonathan Epps, 22, said Sunday afternoon he still hadn't fully grasped the magnitude of the "tremendous blessing," which he called the kindest, most generous thing he'd ever witnessed.
Jonathan Epps, Elijah Nesly Dormeus and Robert James say Smith's gift inspires them to pay it forward.
"It'll sink in as the years go on. I know that for a fact," he said. "I still don't really have words. ... It makes a great day just that much better."
Epps said he has about $35,000 in student loan debt that his parents in Pleasanton, California, had pledged to help him pay off. He couldn't wait to break the news to them, he said.
A classmate, Elijah Nesly Dormeus, is the first of nine kids to graduate college. His mother made many sacrifices working minimum-wage jobs to provide for him and his eight siblings after Dormeus' father died when he was 5.
In addition to the 22-year-old New Yorker's own $90,000 debt, he said his mother took out a loan to help get him through school.
"All her serving, all her giving was not in vain," Dormeus said when asked what Smith's gift meant to his family.
Via CNN
_______
In an interview earlier this month at the world premiere for "THE INTRUDER" Robert Frederick Smith spoke to entertainment journalist and red carpet correspondent Tanisha LaVerne Grant about Cheyney University of Pennsylvania the country's oldest HBCU which is trying to regain it's financial footing.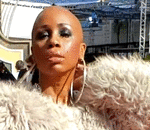 Posted By: Tanisha LaVerne Grant
Sunday, May 19th 2019 at 3:18PM
You can also
click here to view all posts by this author...