Nichelle Smith USA TODAY
"Where is home?" the author Sulaiman Addonia says, is a question he finds overrated. Home for him is not a physical place, it's a feeling one can discover in a lover's eyes or even a song. Addonia's beautiful, sensual novel "Silence is My Mother Tongue" is somewhat autobiographical; he was born in Eritrea, raised in a Sudanese refugee camp and spent his teenage years in Saudi Arabia. For someone born into a life of nomadic uncertainty, his observations are understandable. For an African American descendant of enslaved people who were taken from their home country, it's a truth to consider. But it doesn't quite satisfy my soul.
Addonia and I were part of a fast, fun clique of Western-based writers and journalists who bonded immediately among the thousands of kindred spirits at the Ake Arts and Book Festival in Lagos, Nigeria, last October. Director Lola Shoneyin invited us there to engage in panel discussions exploring the complicated relationship we Africans of the diaspora have with the continent we think of as home.
I explained how emotional the longing for connection is for African Americans – what we most want, I said, is to find the place where we see ourselves in the faces of the Africans around us.
Amazing that this desire came true for me in Nigeria. Wherever I went, I saw people who looked like me and the people I knew. I began to be excited about the idea of finding my roots.
In this year's Black History Month special edition, our eighth annual, we circle back to the questions of identity and agency we raised in the February 2019 Exodus issue. Journalist E.R. Shipp analyzed the murky beginnings of slavery and the role of the Tuckers of Hampton, Virginia as a founding family linked to the first "20 and odd" enslaved Africans brought to the English colonies. That story got our editor Nicole Carroll thinking about a much larger project: What if we took family historian Wanda Tucker all the way back to the roots she claims in Angola?
More to her story:
https://www.usatoday.com/story/news/2020/0...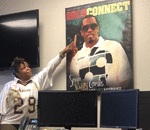 Posted By: Elynor Moss
Thursday, February 6th 2020 at 8:38AM
You can also
click here to view all posts by this author...