Savannah State University (SSU) professors Nicholas Silberg and Theo Plothe, Ph.D., are using 3D printing technology to help create masks for first responders and frontline healthcare workers in the coronavirus (COVID-19) battle.
Silberg, professor and chair of the Department of Fine Arts, Humanities and Wellness, and Plothe, an assistant professor in the Department of Journalism and Mass Communications, are using a free 3D printing file from a Georgia dentist, who began the Fired by Corona movement, to make as many as eight masks per day.
"Each mask takes about four hours to print, though multiple masks can be printed at the same time on the two 3D printers we have in our MakerSpace," said Silberg.
The completed masks will be delivered to a local dentist where they will be disinfected, sealed and fitted with filters to prepare for use in the field. Though not approved by the U.S. Food and Drug Administration nor the National Institute of Occupational Health & Safety, the 3D-printed masks can serve as a backup and provide much-needed protection for healthcare workers until the shortage of N95 masks is resolved.
Plothe said the SSU MakerSpace is totally devoted to this cause and has ceased all other projects to focus on its 3D printing efforts for the
Fired by Corona
movement.
"The SSU MakerSpace is effective and always busy," said Plothe. "Unfortunately, we don't have enough machines to print at scale as we'd like."
If you have a 3D printer and would like to volunteer to produce masks, contact Plothe at plothet@savannahstate.edu, 912-358-3362, or Silberg at silbergn@savannahstate.edu, 912-358-3335.
Content Creator: The Office of Marketing and Communications marketingandcommunications@savannahstate.edu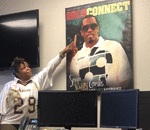 Posted By: Elynor Moss
Tuesday, April 7th 2020 at 4:36PM
You can also
click here to view all posts by this author...