Los Angeles, CA (March 10th, 2023) – Cate Blanchett, Tom Ford, Naomi Campbell, Alicia Silverstone, Annie Lennox, Jodie Turner-Smith, Jerry Hall, Simu Liu, Mike D, Trudie Styler, Simone Ashley, Georgia May Jagger, Rafferty Law, Heidi Klum, Amber Valletta, Petra Němcová, Maria Carla Boscono, amongst others, walked the interactive carpet at this year's Green Carpet Fashion Awards at NeueHouse Hollywood. The annual awards celebrated positive forces in fashion and entertainment, championing interconnected cultural change and the most inspiring efforts that drive it. The GCFA 2023 is co-chaired by Simone Ashley, Cate Blanchett, Quannah Chasinghorse, Viola Davis, Tom Ford, Salma Hayek and Simu Liu.
The 2023 Green Carpet Fashion Awards celebrated six cultural archetype honors that are crucial to collective transformation in any community; two special honors in fashion and entertainment and, closing the night, a special recognition of fourteen female leaders, for their inspirational activism, understanding and interplay between environmental action, civil rights, equality, global feminism and building a better collective future.
Receiving the GCFA honors on March 9th in Los Angeles:
Sônia Guajajara, Minister of Indigenous Peoples of Brazil: The Healer, presented by Leonardo DiCaprio –
"Minister Guajajara's pivotal role within President Lula's government gives her even greater responsibility and an unprecedented opportunity for impact. Although the task ahead is undoubtedly daunting – in Minister Guajajara's words, "the fight for mother earth is the mother of all fights" – her strong leadership position coupled with her commitment and tenacity fills me with boundless hope that she will rise to the occasion yet again." – Leonardo DiCaprio
Tom Ford: The Visionary, presented by Trudie Styler –
"I started the Plastic Innovation Prize three years ago with a harrowing fear that the world our children would inherit would no longer be a livable one," said Ford. "I wanted to be a part of the solution, not be an arbiter of the problem. Watching the brilliant minds within this competition has given me extraordinary hope in making the impossible possible." – Tom Ford
Alicia Silverstone: The GCFA Integrity Honour, presented by Quannah Chasinghorse –
"The more we speak up and say no to what we know is not helping the earth, the animals or the people, the more we will see change. And if we accept what we know is wrong...just because it's what everyone else is doing, we won't ever change." – Alicia Silverstone
Edward Enninful, Editor-in-Chief of British Vogue: The GCFA Game Changer, presented by Jodie Turner-Smith –
"I have always endeavoured to use my platform to champion causes that hopefully leave this world a better place than how we found it. It's been my life's mission to spotlight, improve and drive the stories of the underrepresented. The progress we have made as a culture and fashion community in recent years has been fantastic, but we can do more. We must do more." – Edward Enninful
The Young Leaders, presented by singer, songwriter and humanitarian Annie Lennox –
"As a long-term activist, 'Global Feminist,' and founder of 'The Circle' NGO, it encourages and inspires me SO much to see a new generation of brilliant young women rising up to address solutions to the countless challenges facing women and girls everywhere around the world. I'm hugely grateful to the GCFA for giving them this wonderful platform to shine a light upon their essential and exemplary work. This is what Global Feminism is all about! Sisters - doin' it for themselves!!" – Annie Lennox
Young Leaders included: Quannah Chasinghorse, Model and Indigenous Activist. Nalleli Cobo, Climate Justice Activist. Wawa Gatheru, Kenyan-Amercian environmental activist. Helena Gualinga, Ecuadorian Human Rights and Environmental Activist. Vee Kathivu, Girls Education Activist. Sophia Kianni, Iranian-American Climate Activist and Member of the United Nations Secretary-Generals Youth Advisory Group. Vanessa Nakate, Ugandan Environmental Activist and UNICEF Goodwill Ambassador. Mary Maker, South Sudanese Refugee and UNHCR Goodwill Ambassador. Leah Thomas, Founder of Intersectional Environmentalist, Diandra Marizet, Exec Director of Intersectional Environmentalist. Aditi Mayer, Climate and Labor Rights Activist. Dominique Palmer, Climate Justice Activist. Maya Penn, CEO of Maya's Ideas, and Tori Tsui, Climate Activist.
Plus, Gucci: The Futurist, presented by Pokimane; Gabriela Hearst: The Sage, presented by Mike D; Eric Liedtke + Tara Moss, Co-Founders of Unless Collective: The Rebel, presented by Simu Liu; and Andreas Kronthaler, Creative Director of Vivienne Westwood: The Messenger, accepted on his behalf by Cora Corré and presented by Jerry Hall.
About The Green Carpet Fashion Awards
The Green Carpet Fashion Awards (GCFA) celebrate positive forces in Fashion and Entertainment, and changemakers who look crisis and conflict in the eye to champion active hope and deep, truthful work for transformation. Pulling together two powerful interconnected industries, by showcasing the level of commitment and focus we all need to mirror, to step up for collective transformation.
The GCFA 2023 board includes Amber Valletta, Christopher Bevans, Livia Firth, Tonne Goodman, and Bethann Hardison.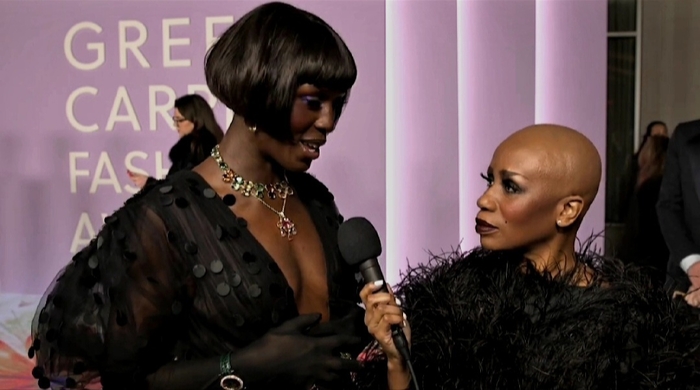 Posted By: Tanisha Grant
Sunday, March 19th 2023 at 5:39PM
You can also
click here to view all posts by this author...